Eminence International
4 Pcs Square Tenon Drilling Bit
Sizing guide
Create perfectly squared holes effortlessly!
Achieve a smooth, symmetrical finish for every wooden furniture, doors, and windows that need a squared hole with the help of this Square Hole Drill Bit! It conveniently turns your drill press into a mortising machine that produces clean, square cuts for your woodworking projects.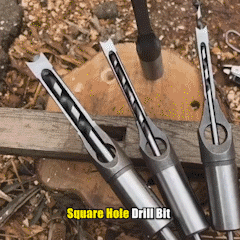 Great Chisel: This Mortising Chisel is great for drilling square holes in wood with a mortising machine or a mortising attachment.
No to Electric drill: Square hole drill can not be used on an electric drill, drill square holes need to fit a square hole drill drilling (mortise and tenon machine) to use.
Good combination: Mortise and tenon square hole drilled by the terrible + outer sleeve in the middle of the combination.
Saves time: Reduce labor intensity of construction workers, speed up the construction speed, reduce construction costs for construction, installation, renovation, decoration industries.
Important Information
Material:

 

Metal

Package Size:150 x 80 x 150 mm/150 x 160 x 150 mm
Handle type: round handle
Cooling type: (internal cooling / external cooling) external cooling
Cutting diameter (mm): 6-30mm
Shank diameter (mm): 19
Length of chip holding groove (mm): 45-70
Total length (mm): 175-230
Material: Bearing Steel
Maximum cutting depth: 230mm
Blade size: 6-30mm
Model:  4pc: 6.4mm-12.7mm, 14mm, 16mm, 18mm, 19mm, 20mm