Usefulthings LTD
Sizing guide
ARE YOU STILL BRUSHING YOUR DOG's TEETH VIA TRADITIONAL WAY?



Dogs will dislike the traditional tooth brushing method.
When we use the traditional method for brushing dogs' teeth, dogs usually stay away. Because the ordinary toothbrush will bring a terrible experience to the dog, with little effort but no effect, and with great effort, the dog's gums will be injured.
DID YOU KNOW?
According to the American Veterinary Medical Association, 83% of dogs have oral health problems by the age of 3. That's not surprising — gums and teeth are a breeding ground for bacteria. Over time, this can lead to bad breath, receding gums, significant pain, and tooth loss. But it gets worse.
This Dog ToothBrush can effectively clean dog's teeth, reduce the possibility of the abrasion of their teeth and keep their dental health.
It can work as a chew toy, dog can chew it for fun and at the same time, the stick will clean their teeth. Your pet will not refuse toothbrush anymore!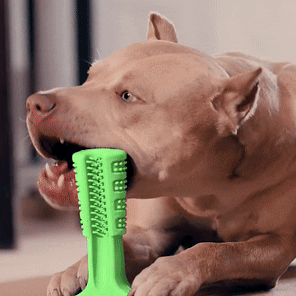 Every dog has its own thoughts. Dogs will chew the toothbrush constantly under the stimulation of taste. In the process of biting, the dog's teeth will be cleaned completely. And dogs will find it very interesting.
HOW TO USE:
The toothpaste groove - 

You can squeeze the pet toothpaste into the top hole.

Arrangement as arc 5 rows brushing points - the scientific design can clean dog's teeth in all direction.

High-density undulating particles on sides: these particles can completely grind away the plaque, tartar, and calculus which are hard-to-reach.
Holding base in dog paw - this base can help the dog holds the toothbrush firmly
It allows you to place food such as dog food in the brushing through to improve mouthfeel.
PACKAGE CONTENTS:
1 X Dog ToothBrush

Size: S, M, and L

Color: Green or Blue

All measurements are measured in flat in centimeters. Please allow 1-2 cm measurement tolerance.
Size Information:

Large size 12.8X16.8X5.1cm 265 grams
Medium size 10*13*4.8 cm 125g
Small size 8.3*11.7*3.8 cm 75 grams
Extra small size: 9.5x7x3.5 cm
Package:
Grinding toothbrush*1