Usefulthings LTD
Sizing guide
Find your accessories at glance!
The Luxury Foldable Display Jewelry Organizer is the perfect storage solution for all of your jewelry. This organizer features a lightweight and compact design, perfect for travel. The organizer can be folded and stored in a handbag or suitcase, and unfolds to display your jewelry. This organizer is designed to hold necklaces, bracelets, earrings, and rings.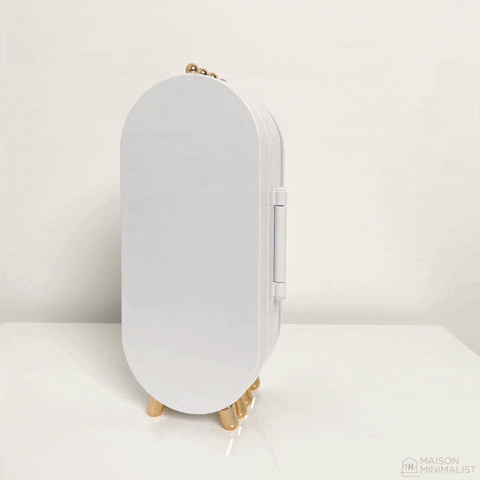 PREMIUM DESIGN: A plastic buckle of the foldable display jewelry organizer connects each panel and you can assemble it freely. It saves storage space and regains a neat dressing table.
LARGE CAPACITY BOX: Our 4-panel jewelry foldable display organizer has 153 holes earring organizer holder, 21 necklace grooves, and 3 U slots. It comes with a mirror. 
STYLISH & LUXURIOUS: With the foldable display jewelry organizer, you can store all your favorite jewelry delicately in a hanging display rack. It has a mirror inside. Its base and top part have a touch of gold, for a luxurious feeling. 


EASY JEWELRY ACCESS: Three-sector foldable display organizer makes it easier to pick and put jewelry, to avoid mutual wear between jewelry.

Foldable & Portable:  perfect to take on the go! Can easily fit in your luggage, carry on, or large purse. Practical and functional organizer, makes for a unique gift for your loved ones. Two beautiful colors to choose from: Forest Green or Pearl White - you can't go wrong with either or both!
Material: Plastic
Specific Material: Abs
Proportion Of New Plastic Materials: 80%—99% Of New Materials
Whether To Fold: No
Pulley: No
Can It Be Carried By Hand: Yes
Capacity: 18l

Specification: 12*6*24cm
Style: Korean
Pattern: Plain
Color: Screen Green Jewelry Box, Screen White Jewelry Box
Gross Weight: 1.8