Eminence International
Fridge Organizer Tray for Hanging Zip-bags
Sizing guide
This Plastic Bag Holder Helps Keep Track of Leftovers and Groceries.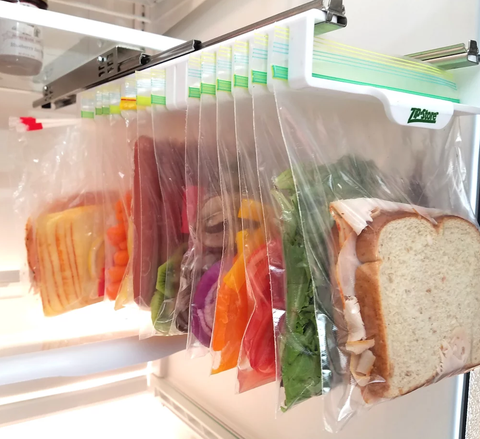 It's a pull-out shelf rack (there's also a door version) that slips all your zipper bags in place for easy access.

Strechable
The storage shelf can be stretched, the length can be arbitrarily adjusted within 30cm-49cm / 11.79in-19.26in.
Retrench of space
The hanging drawer design saves a lot of space and uses vertical space to store many food and items.
Separated from the store
The separate design ensures that the food is stored separately to avoid odors, at the same time, to ensure that the ingredients are fresh.
High quality material
The storage rack is made of ABS material, non-toxic, harmless, durable, easy to clean, mold and moisture proof.
Widely used
The storage shelf is suitable for most household refrigerators and is also applicable in hotels and restaurants.
Features:
With 10 slots, it can be easily stored regardless of any food. Can hold up to 10pcs food bags.
Easy to use, Click directly into the track, no damage to the refrigerator.
Hold food bags stably, non-slip, not easily fall off.
Easy to install in the refrigerator, save space. Effective use of refrigerator space
Specification:
Color: White
Material :ABS
Tray Size Specification: Length 25.5cm x Height 19.8cm x Width 9cm
Package Contents:
1 x Hanging Storage Rack for Food Bag(food bags are not included)