Eminence International
SleepAid Mask - Rechargeable, Bluetooth
Sizing guide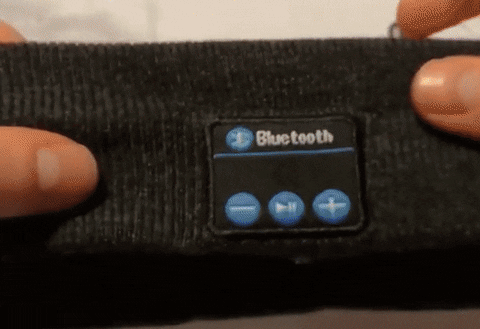 Taking too long to fall asleep?  is here to provide you with your deepest sleep ever! With a 100% block-out sleep mask and built-in music headphones, you can now experience higher quality sleep and wake up feeling better! 
Fall asleep half the time: Effortlessly and instantly sleep in relaxation anywhere and anytime.
Light and noise block out: SleepAid blocks any distracting light and noise as you sleep. Allowing your brain to release melatonin quicker, so you can fall asleep faster.
Bluetooth headphones: Listen to any podcast, music, audiobook, and even white noise to help you de-stress, increase the duration of your sleep, and decrease any insomnia symptoms.
Eases stress and anxiety: SleepAid provides an immersive sleeping experience that is very helpful in allowing your mind and body to unwind after a long and stressful day.
Suitable for all kinds of sleepers: Whether you're a side-sleeper or you just love to roll-over while sleeping, wearing this mask won't be any less effective. It is designed for all kinds of sleeping positions.
FALL ASLEEP FASTER WITH MUSIC 
Studies show that adults who listen to relaxing music before bed is proven to fall asleep faster, sleep longer, wake up less during the night because music helps them prepare and relax to sleep.
DESIGNED FOR ALL-NIGHT COMFORT
SleepAid a one-size-fits-all mask made with breathable, cooling fabrics that stay cool all night & the built-in speakers are extremely slim and won't cause any discomfort. You'll forget you're even wearing it.
PREMIUM SOUND & LONG LASTING BATTERY LIFE
SleepAid uses thin Hi-Fi speakers to create an immersive audio experience that's perfect for music, white noise, audiobook, and podcasts. The battery charges quickly via micro USB & can play up to 10 hours of music!
PROTECT YOUR EARS, NO MORE PAINFUL EARBUDS
Traditional earbuds & pods are proven to damage your ears after multiple uses, especially if you use them as you sleep.
Not only are they extremely uncomfortable but they also cause painful inflammation around your ear cartilage which can result in a lifetime of pain, discomfort, and even minor hearing loss.
Specs
Bluetooth version: 5.0
Color Classification : Black Black 3D Package
Type: Official standard
How to use: Head-mounted
Transmission radius: 10m
The best time is the moment when you are quiet.
Multi-function Bluetooth goggles: listening to songs + noise reduction + sunshade + headscarf Supports most Bluetooth devices on the market, Apple, Android are suitable,